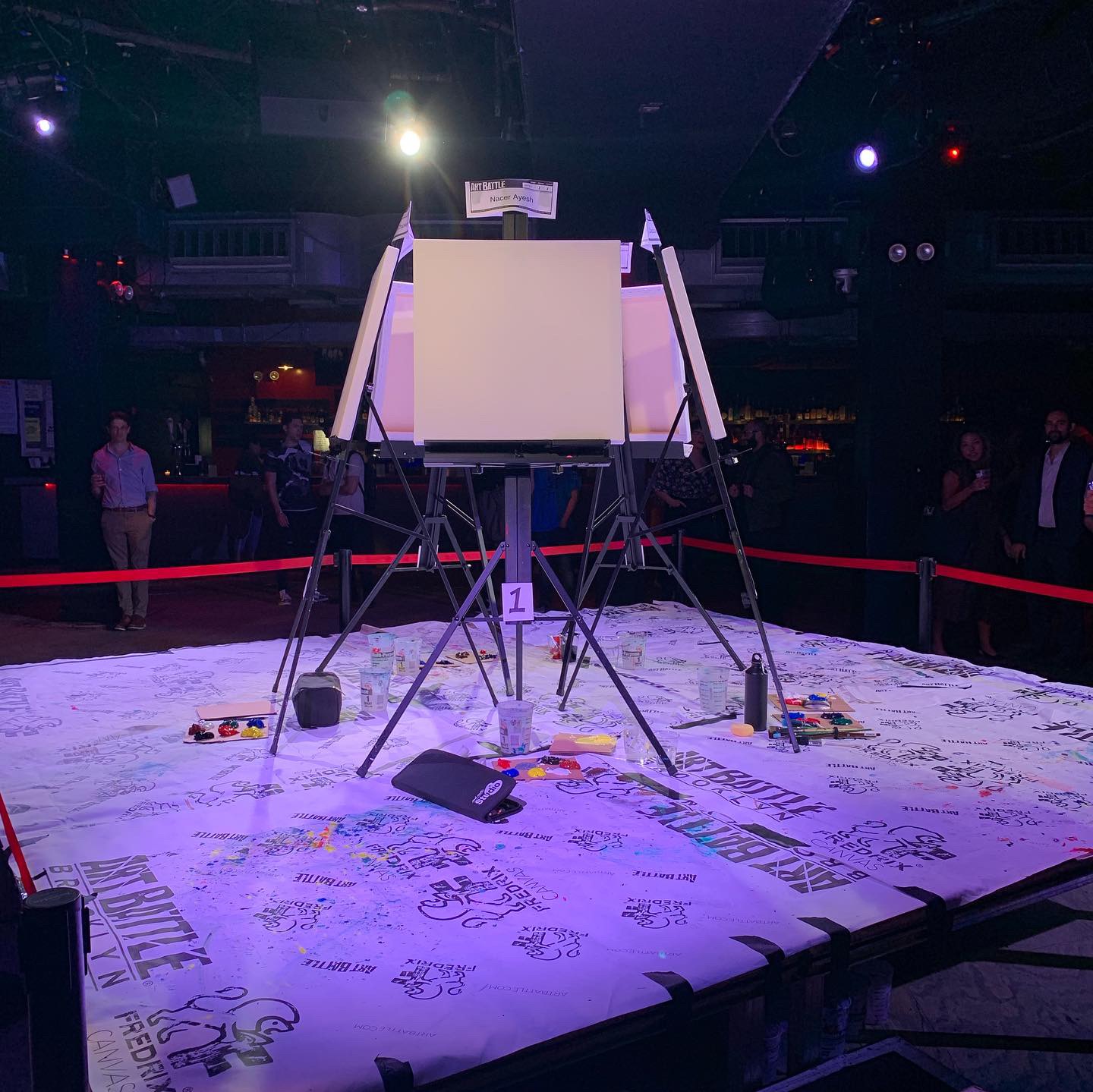 SO WHAT 'S IT LIKE COMPETING IN AN ART BATTLE?
Palms are sweaty, knees weak, arms are heavy indeed as you enter the room for the first time and you're faced with a stage of blank canvases staring right back at you. There's an unprecedented energy brewing in this space as your imagination begins percolate with anticipation. You're greeted by a benevolent man—one of the event organizers. He'll escort you in to the "green room", and in here is where you'll meet the other contestants who will be competing on stage with you tonight. He'll brief you on what art supplies are made available for use, and in this small room is where you'll wait until it's showtime.
While waiting, you'll converse with other artist to get a small dose of where they're from and how they came to be here. I had my best game face on while trying to assess my approach for the evening, but after settling in I realized the overall tone from this group was loose and just happy to be involved. This helped me ease into the flow of things. Everyone was really friendly with their own creative story to share. This is also another great opportunity to network if you're trying to expand your creative services. The group I was apart of was a nice variety of artists - some students who are just breaking into their field of study, some seasoned professionals, and a retired creative who paints for fun. The level of skills were easily deceiving from hindsight.
Coming in, I had a couple ideas I was brainstorming on what to paint for tonight.
At home, I tried timing myself on a few spare canvases to try and shake some rust but was faced with a wall of frustration instead. 20 minutes is all I had, and I knew whatever I did it would have to be minimal in detail, for time sake. With just minutes before the it was time to take stage, I decided I would go with this sketch for my submission…
The crowds slowly filled the room as DJ George Garcia was kicking off the night with some great sounds from the booth. Photographer, K. Cappa was floating about, capturing moments from different perspectives. You could feel the energy building as time was winding down for the artist to take stage. I was the first contestant called onto the stage and the crowd gave me a nice warm welcome. I knew the cards were stacked against me, but I took this as a great opportunity to break out of my shell and most importantly, just have fun.
With all the artist on stage, I had my paint brush in hand and my palette of acrylics in the other as I was ready to roll. The DJ gave the crowd the heads up to begin counting down until kick off… 3, 2, 1 GO!
All the fear of people watching me went right out the window. All I could focus on was this blank canvas in front of me and the sounds hip hop music pumping in the background. The energy was incredible. Before I knew it, I had half of the canvas covered in color and I was slowing finding my groove. I kept reminding myself to take a step back to make sure things was looking right from afar, but with time ticking down I knew I had to keep on stroking. The DJ would occasionally give us a heads up on where we were with time and also remind the crowd that dancing is permitted of course. I never imagine I would be having so much fun on stage before tonight.
After the first 15 minutes, I knew my painting was far from what I imagined it would look like but it didn't matter anymore. I was already proud of myself at this point. I was systematically map out which brushes & colors I would save until the last 5 minutes so that I could leave this canvas in a good place before I walked away. Time began ticking down, and I was rushing to get some last second strokes in before it was over. Most importantly, with the last ten seconds I reminded myself to sign it off with my initials before the DJ gave the command to all artist to drop their brushes.